Who wants to know a little bit about Kaffe Fassett? Even if you don't know the name, surely you'll recognise his style - big bold colours and patterns, see the pictures below!
Here's a "ten facts" I've put together myself - not copied and pasted like almost every article I've found about him online thus far...
Kaffe Fassett
Kaffe Fassett was born Frank (not so fancy, eh) Fassett in San Francisco in 1937. His name rhymes with "Safe Asset" (I've been calling him Kaf-fe all these years, whoops!)
Young Kaffe
He's lived in England since 1964, when he dropped out of the Museum of Fine Arts School in Boston and moved to the UK to paint.
Bill Gibb (l) and Kaffe (r), taken from here
Kaffe visited a Scottish wool mill with his friend, fashion designer Bill Gibb. He loved that the colours found in the natural landscape around him were the same as coloured wool from the mill, and he bought 20 colours and some knitting needles. On the train back to London he asked a fellow passenger how to knit... and Kaffe's love of knitting had begun!
A selection of knitted designs.
His first design appeared as a full page spread in Vogue Knitting magazine.
Free knitting pattern for this found here!
On the BBC program "Pebble Mill at One", Kaffe launched a competition asking people to send in a needlepoint image of their favourite thing, which received over 2600 entries! These formed the Pebble Mill at One Heritage Tapestry which apparently is still on display at Harewood House (I can't see any pictures of it on the website though, boo)
Those cherries look gorgeous!
He was the first living textile artist to have an exhibition at the V&A in 1988, this went on to be shown in Finland, Holland, Norway, Denmark, Sweden, Australia, Canada, USA and Iceland .
A set of brightly coloured flower needlepoint cushions
His first book, 'Glorious Knitting", sold 40000 copies in the first fortnight of its release.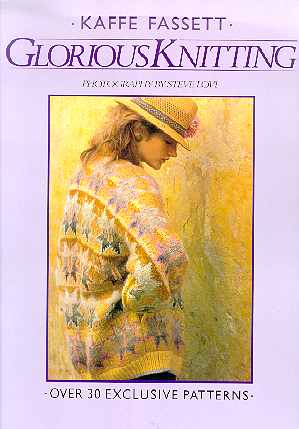 I'm pretty sure my mum owns this... Hi mum! :)
He has designed pieces for people such as Barbara Streisand, Lauren Bacall, Shirley MacLaine. However, he says of this "It's nice to drop their names into articles, but they wear an outfit once and then give it to charity. Most of my fame came from writing books".
Beautiful, I especially love the middle one with the leaves.
He still teaches workshops - read this post from a lady that attended a quilting one in the US. I'm jealous!
Some Kaffe fabrics from here - aren't they lovely!
Oxfam asked Kaffe to work with weavers in India and Guatemala, a range of striped fabrics is being produced for use as shirt fabric, bed throws and patchwork fabric.
Phew! I've been looking in my copy of Kaffe Knits Again that I won in a Making Magazine competition (see previous post)... What to make first, that's the hardest decision!